www.childrenoftheearth.org















Earth Poems
by Ms. Siegelman's Third Grade Class
Nassakeag Elementary School ~ Long Island, NY


Clean it Up
By Allie ~ 9 years old
Clean up the earth,
so it could be a sparkling clean place for us all !
Clean up the earth,
so we can see the gorgeous blue and green on our planet.
The blue and green will shine in our eyes if we clean it up.
So clean it up,
so that we don't see any garbage ~
any time or any day.
Clean it up
and live in a world of happiness.
The world we live in can be cleaned up and we can be happy!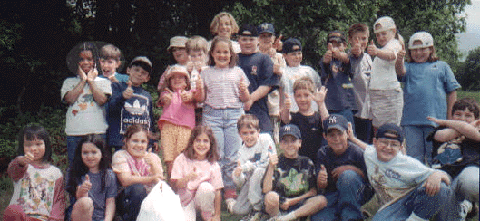 Ms. Seigelman's class (with Jennifer Reinfeld) give a thumbs up after hiking together in the woods.
Don't Litter
By Veronica ~ 8 years old


We all litter every day in different ways.
If we keep littering our earth will be a big trash bag.
Let's put out a call.
Most people don't care.
My class would not dare !
Once my class put up a sign.
It said, "Please don't litter. The Earth is mine.".
Our landfills are overflowing.
Every day they are growing.
We see it making all kinds of motions.
We can try to stop this now, but how ?
Our Earth
By Emily ~ 9 years old

Our Earth is a blue ball with pieces of land. If you don't take care of the land it will be all smelly and yucky. If people keep cutting down plants and trees we will have no air to breathe. If you want to help us save the earth. Join in !

Picture by Mollie
Earth
By Joe ~ 8 years old

Earth is excellent
And with many plants
Round and round it goes.
The earth is dying
Help it now !

Acting out rocks !
Earth Poems
By Rebecca ~ 9 years old

Noun Verse

EARTH
Green, Blue
Surprising, Stunning
Round

Haiku

EARTH
The earth is pretty.
Do you want the earth for you ?
Do you like the earth ?

Acrostic Poem

Excellent
Artistic
Round
Terrible sometimes
Hot sometimes
Pollution
By Tommy ~ 9 years old

Pollution in the air
Pollution everywhere
We can stop it anywhere.


Pictures by Tommy




EARTH
By Vincent ~ 8 years old

Everybody likes it.
Apple trees grow on it.
Running streams.
The earth spins on it's axis.
Heat doesn't come from it.

Noun Verse

EARTH
By Kristin ~ 8 years old


Earth
green blue
flying spring
Earth
EARTH
By Jenny ~ 8 years old


Earth
Animal
Rain
Tiger
Hippopotamus

EARTH
By George ~ 8 years old


Excellent
Amazing
Really big
Trash
Hard
Noun Verse

EARTH
By Mollie ~ 8 years old

Earth
Nice Peaceful
Running Playing
Earth
Earth Poems
By Joey ~ 9 years old

Haiku


Earth
Getting polluted
It has wonderful things living on it
It is wonderful.


Acrostic Poem


Excellent
A Air
R Rain
T Turf
H Habitats

Noun Verse


Earth
Beautiful Polluted
Spinning Rotating
Earth
EARTH
By Kimberly ~ 8 years old


Acrostic Poem


Environment
A A lot of stuff
R Running water
T The wonderful sounds
H Hot sometimes

Noun Verse

Earth
green round
spinning flying
Earth
Earth
By Keith ~ 8 years old


Earth
Animals
Rotates
Tree
Honey

Picture by Philip


Noun Verse

Spring
By Louis ~ 9 years old

Spring
windy wet
running playing
Spring

Spring
By Philip ~ 9 years old


Spring is here finally.
It is warm and great. Spring is here and we've been waiting so long.
Children ride their bikes.
Grown-ups go camping with their families.
Spring is fun but soon it will be gone, though I will miss it.
I will be ten next spring and when that day comes it will be the best !
Green / Eco-Kids Say it With Words - Kids From around the world share their thoughts, projects, poems, stories
and ideas about the Environment, the Earth, Global Warming, Nature, Animals, Forests and More.